Home
Quinoa A Nutritious Superfood
Talk about a power packed meal that had enough superfoods to send my body into orbit. yummmmmmmmmmmmmmy!

Ever heard of quinoa?

Not many people have or you may have by now, but I hope that through this website - popularfitness.com - more and more people will become more aware of how great quinoa really is.

Nutritious Quinoa is an ancient grain-like crop which is considered by many to be a superfood.

It is actually one of the healthiest and tastiest substitutes for rice and pasta. We all know that white rice and non-whole wheat pasta are full of, for the most part, useless carbs that 9 out of 10 times get stored as fat in your body and contain virtually no nutritious content. Check the label, white rice contains basically no nutrients!

Quinoa on the other hand is jam packed with a ton of nutritional goodies (percentages are approximations based on type of Quinoa consumed): Calcium 3%; Iron 15%:Magnesium 30%: Phosphorus 28%; Potassium 9%; Sodium 1%; Zinc 13%; Copper 18%; Manganese 58%; Selenium 7%.

Also, a 45g (1/4 cup) serving of Quinoa contains approximately 6 grams of protein, making it a good and fairly high natural source of protein! Great for people when weight training, bodybuilding or anyone looking for other healthy foods to increase their daily protein consumption especially with the very high price of meat these days!

Also, try adding organic vegetables or garden grown vegetables to Quinoa and you will fortify it even more with more nutrients and vitamins and a little zest, flavor to your recipes. If you grow your own vegetables, try freezing them and using them in cooking in the non-growing seasons. Freezing locks in the nutrients unlike store bought vegetables which at that time of year ripen in the truck and therefore never mature properly and never end up containing their full nutrient value. Thus, depriving you of what their true nutrient value should be! Plus you will also know that you are really eating organic vegetables and it's a great way to add more flavor to your Quinoa recipes during the cooler or winter months.

The recipes you can create using this ancient grain are endless and can range from simple and quick to more fancy and complicated. The whole point is to create meals that are of nutritional benefit to you!

So if you have not tried quinoa yet, make sure to go grab some at your local health food store, supermarket (if they carry it) or order some online. Just make sure to grab organic... for the few extra bucks it will cost to go organic you will save your life in the long run.

Organic Quinoa with Finely Chopped Beets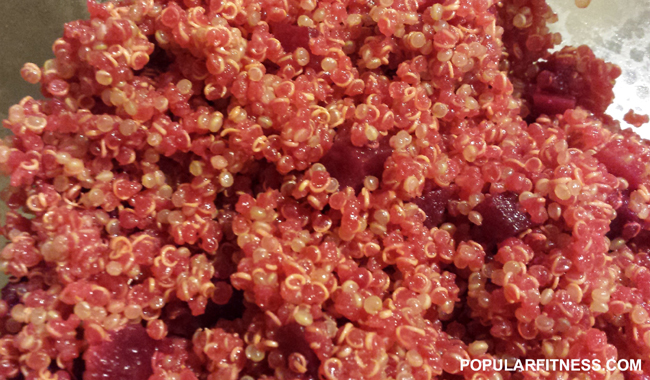 Another Superfood Quinoa Recipe

So let me show you how today's power packed meal is really quick and easy to make and super easy to swallow because it just tastes that good!

For the tomato puree, fill my Ninja blender with:

10 small tomatoes
Cilantro
Ginger
1 sweet pepper
a few various peppers ranging from medium to HOTTTT.

After I have made a tomato puree in my blender, I put it all in the sauce pan on the stove with a little bit of extra virgin olive oil.

I mince half an onion and 2 pieces of garlic. Sautee the garlic and onions for a few minutes and then throw it all in the sauce pan with my tomato puree. Let this simmer on low heat for about 20 minutes.

While the tomatoes are cooking, I also am busy boiling some quinoa. Once the quinoa is cooked and strained, I add all the contents from the saucepan and spread it over the quinoa.

This was one tasty meal that I will be sure to cook again and hopefully next time I will remember to take pictures for you.

Custom Search
PopularFitness.com