Home
Fitness
Articles
Exercise and Workouts
Pilates Exercises
Yoga
Supplements Info

Fitness Products
Books and Reviews

Related Resources
Social Media
RSS Feeds
E-Mail
Webmasters Info:
Advertising Info
Article Submissions

Perfect Condo Gym
Recently I was visiting my friend and I decided to check out the gym at his condominium building and help him with his weight training workout. It's a small gym, but the selection of weight training equipment was excellent. It actually had all the necessary weight training machines and free weights to do an excellent strength training workout. Perfect for people who don't belong to a gym, if the weather is bad or if you don't have time to go to a gym, yet still get in a decent strength training workout.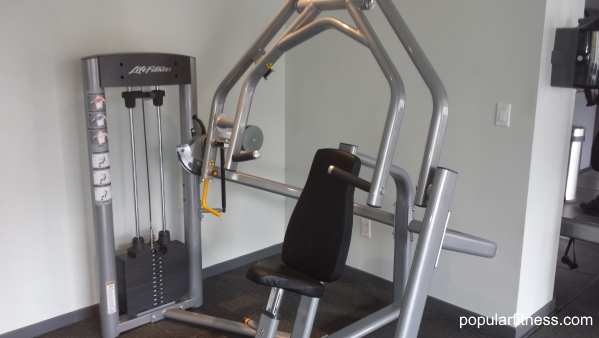 One particular exercise machine caught my attention, it is a LifeFitness machine that was set at that moment to do a wide chest press exercise, and the way that it was designed, I think it is perfect for doing a wide chest press. The angle of the handles and the movement are ideal for getting a good chest workout. I also noticed that it had 2 other adjustable settings allowing you to do an incline chest press and a shoulder press. Such a machine is perfect for a condo gym or a home gym when your space and budget are very limited.

Besides, the other equipment there is really good too. They had one multi-purpose LifeFitness workstation that uses pulleys on which you could do a variety of different exercises using the various attachments such as for your chest, back, shoulders, biceps and triceps. It even had a variety of different angled pull-up handles to do pull-up exercises and other hanging type exercises.

There was also 1 machine for the back which could be used for doing various back exercises like pull-downs and seated rows.

Of course no gym would be complete without a wide assortment of dumbbells and this gym had a wide range of quality dumbbells from very light to very heavy along with 2 adjustable benches allowing you to do huge variety of weight training exercises when you either want to complement your workout with machines or if you prefer just prefer to use free weights.

Other fitness equipment that I noticed included a few exercise and medicine balls and a water rower. There was also one leg press machine, but it is not one that I like to use or that I ever use.

The gym could have used maybe a few other pieces of equipment but with space very limited, choices have to be made, what to get and what not to get.

All in all, a very nice and excellent selection of exercise equipment to do a decent to great strength traiing exercise workout close to the comfort of your home!

Just goes to show, if you select the right type of equipment with the right given budget in mind, you can come up with a great and effective gym for your home or condo regardless of space size.
Custom Search
PopularFitness.com




**

Ad-Free Article

**