For the urban dwelling populartion to stay healthy and active, exercise is very important and having safe and well-designed city infrastructure like bike paths to support these goals is important. These bike paths must be safe and worry-free for cycling, as well as for inline skating, skateboarders and for other means of exercise.
The City of Toronto has quite a lot of bike paths but when it comes to inline skating they are not completely safe nor well-designed. Some parts of the Martin Goodman Trail or bike path along the waterfront and through the Harbourfront area are extremely dangerous. Either the city designers/engineers, the private consultants who are hired don't exercise or they just simply lack the skill and expertise required to do this job. A lot of these problems are just common sense and logic. Really, the City of Toronto should be using a sports consultant to help them with bike path design suggestions and recommendations.
Let's take a look at some problem areas of this bike path. It's just common sense and logic that is missing in these examples.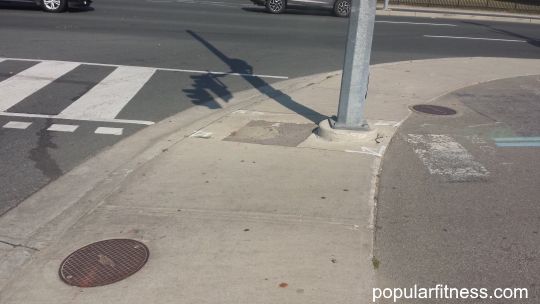 This is an example of 1 intersection of the bike path. Rollerblading westward, you are going down a slight decline and picking up a little speed towards this intersection with lights. The intersectionn is a mess - manhole covers, uneven sidewalk and sidewalk edges, broken sidewalk repaved unevenly - BAD, bad and bad (like Donald Trump would tweet); a total mess! Skilled rollerbladers can handle this but not all the time, but peoplle with poor balance, first-timers or people with less skill can easily fall and injure themselves. To add to this you have to watch for vehicle traffic from 3 different directions. Sometimes cars and trucks stop and block the intersection when you have the green light and the right of way! Not an easy area for inline skaters to deal with and navigate through! It would have been better to re-route this path all along the lake away from vehicular traffic and intersections rather than build it here. Sometimes even there are hoards of pedestrians to deal with at night who walk on the path and block it. Imagine people walking on roads with vehicular traffic like this!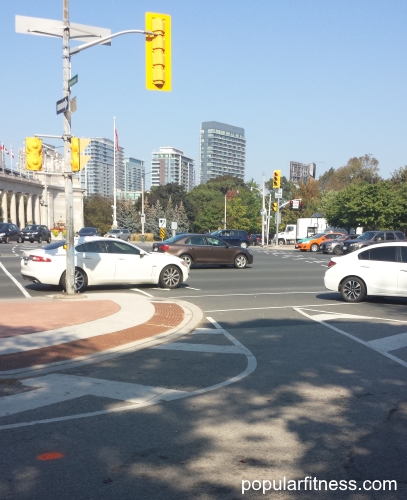 A second example are these rusting and very ugly metal covers at the corners of sidewalks at intersections. They are made bumpy and can be very slippery when wet for inline skaters.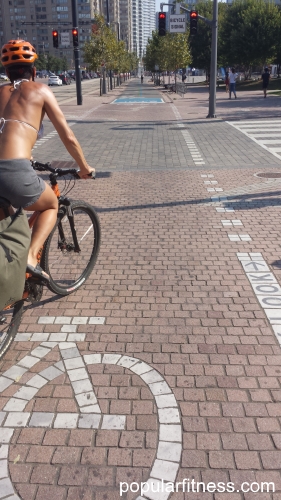 A third example is the cobble stone or brick used on the path at Harbourfront (pretty extensive here, but there are many along this stretch). Very rough and damaging to inline skate wheels. It should be paved. Cobbled and use of brick may look nice but for a bike path, it's a terrible design idea. Also, there many sewer and manhole covers right on the bath. If you are inline skating during the day or worse at night and you don't keep an eye out on the path, you may fall. A girl rollerblading behind me fell at night going over an odd-shaped oval manhole cover a block or two to the east of this picture.
There are countless of other examples of poor bike path designs, but I cannot mention them all! If any city in the world wants their population to enjoy the outdoors while exercising - cycling, inline skating, jogging or running, infrastructure must be properly designed by qualified designers/engineers with the right skills in order for the bike paths to be safe for everyone. Worse thing that you don't want to happen while exercising for pleasure is to be injured falling or being hit by a car.