Fitness
Articles
Fitness Programs
Exercises and Workouts
Supplements Info

Fitness and Health Products
Books and Reviews
Exercise DVDs


Subscribe to Newsletter
RSS Feeds
E-Mail
Webmasters Info:
Advertising Info
Webmaster Info
Coconut Water Review

My review about why I feel natural coconut water is better than many or most sports drinks and a comparison of the health and nutrition benefits of the two. In this article, I am primarily discussing this drink to be consumed after a cardio workout but it can also be consumed on hot days to quench your thirst or as an enjoyable beverage.

I was rollerblading one hot summer day and by the road a company was handing out free samples of O.N.E Coconut Water so I grabbed a couple of the tetra packs of ONE. Never heard of this company or recall hearing of their product or even tried coconut water, but I found this product to be refreshing, hydrating and nutritious. It was a perfect drink after rollerblading in the hot sun, so I decided to write this short review.

The taste is very good, different from what I may be used to and it contains no G.M.O.s, no fats or cholesterol and this product is gluten free and made of 100% of coconut water gently pasteurized and not from concentrates. For these reasons, it's a natural and healthy product.

Even the tetra pack container is made from environmentally friendly and renewable paper products compared to the plastic containers of most sports drinks which are made of plastic the concern with Bisphenol-A.

Let's look at the electrolytes comparison because the proper amount and balance is important for efficient hydration.

ONE Coconut Water (mg per 240 ml)

Potassium 470
Sodium 47
Magnesium 18

Sports Drinks (mg per 240 ml – source is a leading sports drink)

Potassium 25
Sodium 100
Magnesium 2

With respect to sugar, ONE only contains 8mg compared to 14mg for sports drinks and I have to assume the sugar content is natural sugars found in the coconut water because the product is 100% natural. Plus, the sugar content is substantially less than in sports drinks.

This product is also available in most stores and I have seen it sold at Starbucks too.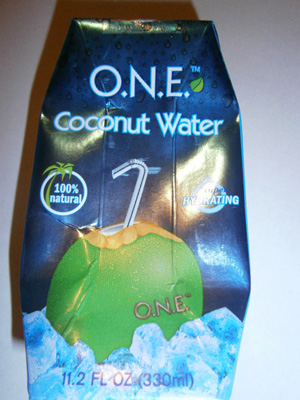 To conclude, I feel that coconut water is healthier for you because of its nutritional content and the fact that it is a natural product compared to many sports drinks and the numbers seem to back this conclusion. Personally, I liked this product and it did a great job in hydrating me after my rollerblading workout in the hot sun. I feel that ONE Coconut Water is worth a try - or any other brand of coconut water if the brand that I have reviewed is not available in your area and then compare it to ONE. Determine for yourself if you will like it and if this type of drink suits your health, nutritional and fitness needs. Of course this natural drink can also be consumed


Custom Search
PopularFitness.com